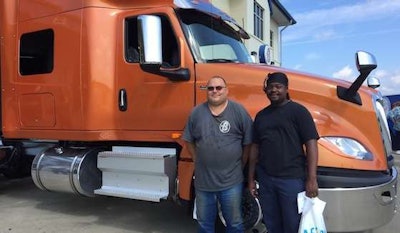 Alabama-based flatbed company Boyd Bros. Transportation invited its drivers to its Birmingham terminal for giveaways, free lunch, an antique trucks show last week.
The event, held Sept. 14, was part of the company's National Truck Driver Appreciation Week celebration. Free barbecue lunch was provided by Southland International Trucks, a Birmingham area International trucks retailer. They also showed two antique International trucks: A white 1980 International Scout and a red 1952 International I10, as well as a 2018 International LT. Another blue 1980 International Scout joined them, provided by Boyd Bros. The blue Scout belonged to the company's founder.
Throughout the event, drivers were able to draw for prizes. The giveaway items included a CB Radio, gift cards, dash cameras, a custom jacket, and more. Lori Furnell, vice president of communications for Boyd Bros., said the company also had sales team members visiting its shippers and giving drivers hats, mugs, gift cards and other gifts.
"We're really doing all that we can not just at our terminals, but outside of our terminals to really make sure everyone is included," Furnell said.
Edward Carpenter, a driver trainee, attended with his trainer, Leon Bell, a Boyd Bros. driver of 12 years. Carpenter said the driver appreciation event, combined with the company's recently announced 4 cpm pay raise, shows it cares about its drivers.
"It'll keep a lot of drivers around and make them feel more appreciated when they're out on the road," Carpenter said of the pay raise. "And then when they do events like this, it just keeps them more motivated to stay with it."
Bell said the event accomplished its goal of making the company's drivers feel like valued team members.
"I've always like Boyd because Boyd cares about their drivers. I've been with Boyd going on 12 years and I've been driving truck for 28 years, and Boyd is one of the only companies I know that cares about their drivers and appreciates them more than others do," Bell said.