A number of business, fleets and trucking-related organizations are celebrating someone special this week: you!
Many truck stops, restaurants and other companies are recognizing truckers and offering deals as part of National Truck Driver Appreciation Week, which began Sunday, Sept. 10 and continues through Saturday, Sept. 16. The week celebrates truckers in the U.S., and is spearheaded by the American Trucking Associations.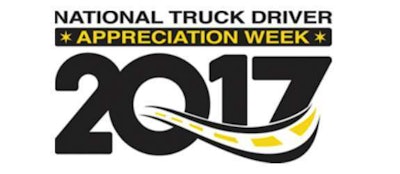 Trucking Moves America Forward, the industry image and education campaign of the ATA, is encouraging the trucking industry and the general public to get involved by using the hashtag #ThankATruckDriver on social media during the week.
Some promotions and other efforts taking place during the week include:
Love's Travel Stops, throughout September, is offering drivers the chance to win $100 in My Love Rewards points, and one driver will win a grand prize of $10,000 in points. Drivers can enter the sweepstakes by going to any Love's store with a touchscreen and entering their My Love Rewards number. Drivers can enter once per week. Every time they enter, they have a chance to win 10,000 points, worth $100. Drivers can also receive a free Love's hat with the purchase of three pairs of gloves for $9.99 at any Love's location.
Pilot Flying J is giving away a combined 100 million myRewards points to celebrate National Truck Driver Appreciation Week. Truckers can enter by swiping their myRewards card at Pilot and Flying J Travel Center diesel fuel pumps. There is a one entry per day limit.
TA-Petro is offering its UltraONE members free coffee during the week, and all TA Truck Service locations will be running discounted pricing on mud flaps, air hoses, tarp straps and more. Additionally, individual TA-Petro locations will be holding events throughout the week including concerts, goody bags, snacks, games, window washing, pet washing and more.
Denny's is offering drivers the opportunity to enter sweepstakes to win prizes such as Denny's gift cards or free Grand Slam meals for a year. Ten drivers will win a $100 gift card, and 10 will receive free Grand Slams for a year. Drivers will also receive a scratch-off card with various discounts and prizes, along with a 10 percent discount key tag that can be used through Dec. 31, 2018.
Rudolph Foods, producer of pork rinds, is partnering with the St. Christopher Truckers Development and Relief Fund in a campaign to recognize truckers. Truck drivers can submit a photo of a state they've driven through with a recognizable landmark for a chance to win $2,500. When each state is filled, St. Christopher will receive a donation.
Teletrac Navman is hosting a contest through Sept. 22 where drivers can share their observations, stories and thoughts about life on the road on Facebook and Twitter using the hashtag #WhyIHaul. Each week, truckers with the top two most-liked posts will win Amazon and Pilot Flying J gift cards.
Rolling Strong is partnering with TA-Petro and the Truckload Carriers Association to offer CDL wellness coaches and health screenings at eight TA-Petro locations during NTDAW. At each location, Rolling Strong will have wellness coaches on-hand from 10 a.m. to 4 p.m. who will conduct health coaching and screenings consisting of weight, blood pressure, heart rate and BMI checks. Participating TA-Petro locations are: Carnesville, Ga., Atlanta, Bordentown, N.J., Pittsburgh, and Rockwall, Texas on Tuesday, Sept. 12; Hebron, Ohio and Ontario, Calif., on Wednesday, Sept. 13; and Hillsboro, Texas on Friday, Sept. 15.
Rand McNally is hosting a sweepstakes throughout the week, which can be entered here, giving truckers the chance to win a leather bomber jacket that features a lining printed with the U.S. map out of the company's Road Atlas. The winner of the jacket will be drawn at random after NTDAW ends.Additionally, the company will be offering discounts on some of its newest products.
Trucking Moves America Forward, in addition to its #ThankATrucker social media campaign, is featuring images of truck drivers and their families on interstate billboards across the U.S. between Sept. 11 and Oct. 9.
Werner Enterprises is recognizing drivers with events at its headquarters in Omaha, Neb., and other locations. The company will also honor five drivers who have recently achieved 2 million and 3 million accident-free miles in a ceremony at its headquarters.
Averitt Express will be hosting cookouts and breakfasts and having goodie bag giveaways for its drivers throughout the week. The company will also hold drawings for its drivers to win CB radios, Blue Parrott headsets, gift cards, truck wash certificates and more.