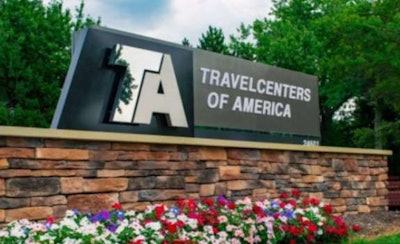 During National Truck Driver Appreciation Week — Sept. 11 through Sept. 16 — Rolling Strong and Truckload Carriers Association hold free health fairs for truck drivers at eight TA and Petro Stopping Centers across the country.
At each location, Rolling Strong will provide CDL wellness coaches from 10 a.m. to 4 p.m. who will conduct health coaching and screenings consisting of weight, BP, heart rate, and BMI. Coaches will also have self-testing glucose readers available for drivers who need to test their blood sugar.
At all locations, Rolling Strong will be giving away a FIT (Freightliner In-Cab Trainer) System to drivers that have a basic health screening and coaching session. The St. Christopher Truckers Fund, a charity that helps sick and injured truckers and their families, is providing vouchers for drivers to get free flu, shingles and pneumonia vaccines at participating pharmacies.
Driver Appreciation Health Fairs will be held:
Monday, Sept. 11
Petro Carnesville, Georgia #377
10200 Old Federal Road,
Carnesville, Georgia
Tuesday, Sept. 12
Petro, Atlanta, Georgia #322
I-285, Exit 12 at Donald Lee Hollowell Parkway, Atlanta, Georgia
Petro Bordentown, #314
I-295, Exit 57/New Jersey Turnpike Exit 7,
402 Rising Sun Road, Bordentown, New Jersey
TA Pittsburgh, I-70
Exit 11- Dallas Pike, 196 West Alexander Road, Valley Grove, West Virginia
TA, Rockwall, Texas
1-30, Exit 68 (St. Hwy 205)
2105 South Goliad Street,
Rockwall, Texas
Wednesday, Sept. 13
TA Hebron/Michael Eugene Zanella Travel Center #39
I-70 at Ohio 37, Exit 126
10679 Lancaster Road SE, Hebron, Ohio
Petro Ontario #26
I-10 & Milliken Avenue, Exit 57,
4325 East Guasti Road,
Ontario, California
Friday, Sept. 15
TA Dallas-Hillsboro, #333
Texas, I-35 Exit 370, 160 U.S. 77, Hillsboro, Texas
"Rolling Strong has always been focused on reversing the declining health of America's CDL drivers," said Rolling Strong Founder and COO Bob Perry. "By powering the TCA Wellness program and working with TA and Petro Stopping Centers during National Truck Driver Appreciation Week, we can empower more drivers to take control of their health and wellness, and make them less likely to suffer an on-the-job injury and get home safely."
The Rolling Strong health and wellness platform can be accessed on iOS and Android mobile devices as well as in-cab computing systems to provide drivers with guidance and real-time tracking of meals, exercise, sleep and other issues.