A major flatbed truckload carrier today announced a 4-cents-per-mile raise for its company drivers effective today, Sept. 5.
Boyd Bros. Transportation, which is based in Clayton, Alabama, said the new pay package also includes a $900 weekly pay guarantee.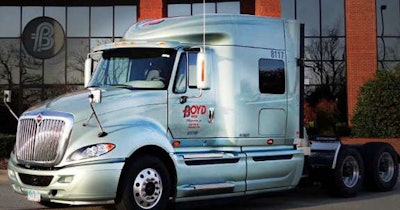 The 4 cents per mile increase is available to company drivers across the board, and will apply to all loads picked up on and after Sept. 5, according to a statement from the company.
Additionally, all company drivers are eligible for the $900 weekly guaranteed pay. The weekly guaranteed pay is offered to students who graduate from the Boyd Bros. training program, as well as all current company drivers.
"Our drivers make much more than $900 per week," said Boyd Bros. Chief Financial Officer Dwight Bassett. "We just wanted to take away financial concerns so that drivers can focus on what they do best, drive. We are also, eliminating the perceived risk that typically accompanies the start of a job with a new company."
In addition to retaining current drivers, Boyd said it also expects that the new pay package will attract better-qualified candidates to join their growing fleet.
"Boyd is pleased to offer such an exciting and progressive pay package to our drivers. We see this as an opportunity to reward them for all they have done to support and grow our company," said Boyd Bros. CEO and President Chris Cooper. "This pay increase coupled with our $4,000 stock grant expresses how we value our drivers. They get up every morning, deal with road congestion, shipper delays, regulations, and still deliver the nation's goods safely and in a timely manner. They deserve this increase."
Established in 1956, Boyd Bros. has terminals in Birmingham, Alabama, and Cincinnati, Ohio, and hauls primarily steel products and building materials in the eastern two-thirds of the U.S.