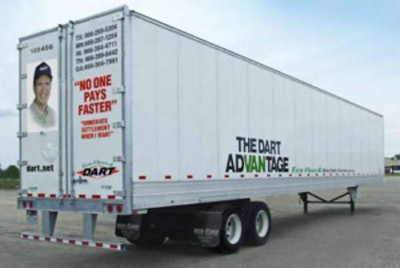 Dart Transit Company, which is based in Eagan, Minnesota, increases pay for owner/operators for the second time this year starting Friday, Sept. 1.
The company's owner/operators who live along major freight lanes and in growing markets will receive up to a 4-cent-per-mile increase.
Dart raised its owner/operator pay earlier this year.
In addition to the boost in pay, Dart said it also has sign-on bonuses and truck lease/purchase incentives available to owner/operators.
"There is no doubt that owner/operators are very important to the Dart Network," said Russ Moore, Dart vice president of communications and marketing. "This is the second pay increase for Dart owner/operators this year, and we are continuing to look at ways to help them succeed."