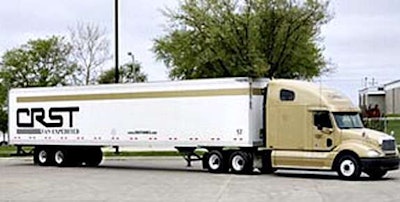 CRST Expedited, Inc., today announced a 15 percent pay increase for new contract student drivers who receive CDL training through CRST's company sponsored training program effective Monday, Aug. 21.
"Our student drivers are a critical part of our team," said Cameron Holzer, President of CRST Expedited. "Ensuring they are successful in starting out their professional driving career is a top priority to us."
CRST said it has invested in driver education over the past several years by:
building a driver training and truck repair facility in Riverside, California

expanding the driver training facility in Cedar Rapids, Iowa

implementing The Gold Rules, an initiative focused on improving the driver experience and reducing driver turnover.
CRST offers on-campus lodging, classrooms, meals and entertainment. Additionally, the company offers safety training to its drivers at no cost.
CRST has more than 8,000 company drivers, independent contractors and office personnel across the nation.