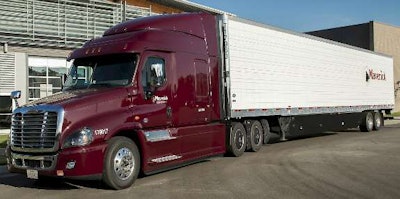 Little Rock, Arkansas-based Maverick Transportation announced a new $5,000 sign-on bonus for experienced drivers recently.
To receive the sign-on bonus, drivers must have at least one year of verifiable OTR experience. It's applicable to driving jobs in all divisions.
The sign-on bonus is paid out in $1,000 increments. The first payment will be paid after the first load is delivered and subsequent payments will be made at 30 days, 60 days, 90 days and 120 days after emptying the first load.
"Drivers know that Maverick is a place where they can build or continue a successful and rewarding professional career," said Kimberly Williams Gary, executive vice president. "By providing drivers new to Maverick with a generous sign-on bonus, we're able to help make their job change an easier and more profitable one."
Founded in 1980, Maverick has over 1,600 units providing OTR and dedicated service to the flatbed, glass, and temperature controlled markets throughout North America.