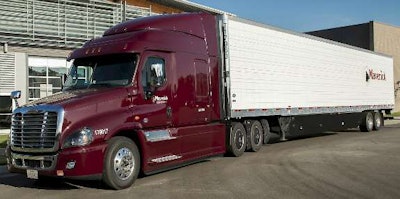 Maverick Transportation LLC recently announced a 5 cents per mile pay raise for drivers in its OTR Temperature Control Division.
The increase, which goes into effect April 29, will bring starting pay to between 51 cpm and 55 cpm, and student starting pay to 45 cpm. This is the third pay increase for Maverick Transportation drivers in recent months, according to a statement from the company. The Arkansas-based carrier announced a 5 cpm increase for its flatbed and glass OTR divisions at the end of last year.
"It's a top priority for us to be on the leading edge of driver compensation," said John Culp, president of Maverick Transportation. "If we can put more money in our drivers' pockets, we do it. Last November, we boosted pay for our other divisions and we're very pleased to raise the pay in the Temperature Control Division, too."
Maverick said its drivers also receive pay increases up to five years, pay for performance bonus, and a driver referral bonus program. Temperature Control Division drivers also receive a $1,000 weekly minimum guarantee pay.
Maverick offers a $5,000 sign-on bonus for drivers with one year of verifiable experience.