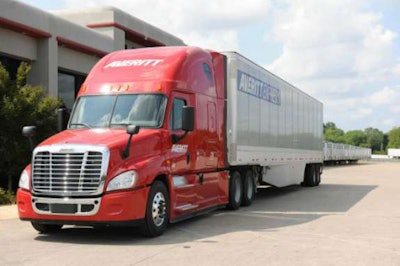 Some truckers recently helped one major fleet find drivers and helped themselves by winning cash and vacations at the same time.
Tennessee-based Averitt Express recently wrapped up a referral program during which employees earned more than $250,000 in cash prizes.

During a 13-month period, associates referred experienced drivers and diesel mechanics whose hiring would make them eligible for our Averitt's regular referral rewards program, which gives the referring employee up to $1,500, depending on the position. The referrals also meant associates were entered into the Cash In prize drawings.
The Cash In program offered prizes of $5,000 and $10,000 and vacation packages. By the end of the promotion, eight employees won cash prizes and three others won vacations prizes that included one week's pay, two airline tickets, and an extra $1,000.
"Our associates are some of the best recruiters we have, because they know friends or acquaintances who would make great teammates," said Elise Leeson, Averitt's vice president of human resources. "That's why offering incentive programs like these is a win-win for our entire team."
The Cash In program is Averitt's latest effort geared toward rewarding its associates and supporting driver retention. Others in the last several years include a truck giveaway as part of a referral incentive program, a Smart Car for overall efficiency efforts, and a truck giveaway for fuel conservation.