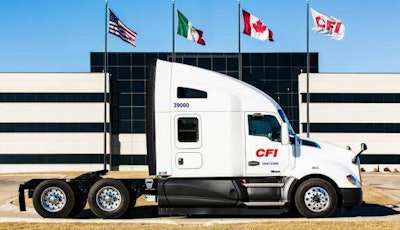 Joplin, Missouri-based truckload carrier CFI recently honored its drivers of the month for July. They included:
Gary Oldham of Tujunga, California, was named Company Driver of the Month. Oldham has been driving professionally since 2016 when he joined the industry after working in customer service. He enjoys the solitude of driving and his goal is to prepare for retirement. Gary recommends other drivers be courteous to one another on the road.
Luis Perez Maldonado and Joel Rivera Reyes were recognized as Company Team of the Month. Both Puerto Rico natives,Maldonado and Reyes met at truck driving school in 2014 and have been driving together ever since. Luis loves spending time on the open road, and Joel enjoys getting to know the country with each new load they haul. They encourage all drivers to make safety their number one priority.
El Paso, Texas native, Eduardo Velarde, was named Regional Driver of the Month.Velarde has been driving professionally since 1989 and has spent his entire career with CFI. After driving 3.4 million miles with CFI, Eduardo says he is looking forward to retirement, but loves seeing different places every day.
Alvin Courte, of Henderson, Texas, was named Contractor Driver of the Month. Courte began his professional driving career in 1996 with CFI, and has since driven over 2.1 million miles with the company. Courte advises other drivers to plan ahead and always watch for others.
Crystal River, Florida, natives Dianna and Jim McLean, were named Contractor Team of the Month. Dianna began driving professionally in the 1970's, pausing for several years to raise her children. Jim joined Diana on the road and the couple began driving for CFI in 2007. With more than 1.4 million miles on the road combined, they agree that the most important key to safety is paying attention.
"Our drivers demonstrate their dedication to safety, customer service and excellence on the road every single day," said Tim Staroba, president of CFI. "We are so appreciative of the effort they show to keep everyone on the road safe, and we couldn't be prouder of their accomplishments. We are grateful to have this group of drivers representing CFI."