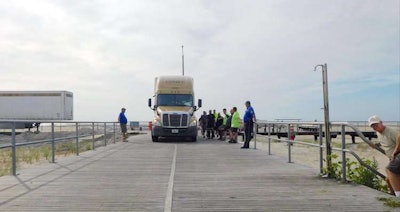 A trucker ended up in a tight spot when he made a wrong turn and found himself driving down the Atlantic City Boardwalk in New Jersey this Wednesday morning, Sept. 20.
The trucker told officials he'd been following his GPS and once he was on the boardwalk he couldn't get off and couldn't turn around. He drove almost three miles down the pedestrian-only beach boardwalk. Nearly 100 feet of boardwalk railings were damaged by the truck, according to NJ.com.
It took officials almost four hours to remove the railings and create enough space for the truck to turn around. The trailer had to be unhitched, and a tow truck was brought in to provide assistance.
Ventnor City Police Chief Doug Biagi told local media outlets that the trucker was not under the influence of alcohol or drugs and was issued several summons for driving off-road. Officials are checking the boardwalk to make sure it sustained no structural damage.
"It is something that I haven't seen in my 31 years. We have never seen vehicles up there. We have seen vehicles crashed up there. I have never seen an 18-wheeler that had to be about 80 feet long," Biagi told NJ.com.
Trucker follows GPS directions onto #JerseyShore boardwalk, leaves trail of damage behind. https://t.co/uFjyNzmtfr pic.twitter.com/oT0vgJIOms

— NJ.com (@njdotcom) September 20, 2017