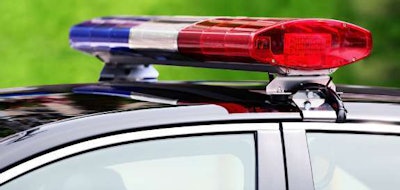 A 52-year-old man in a grain-hauling tractor-trailer Saturday, Oct. 7 led cops in Louisiana and Mississippi on an hour-long chase, which ended when both front tires were coming off the rims.
Police used a spike strip to flatten the tires of a truck they say Eddie Ray Dye, 52, of Tallulah, Louisiana took from his place of employment. A county sheriff's deputy in Louisiana tried to stop the truck, but Dye refused. What ensued was a chase on I-20 until Dye left the interstate for local roads in and around Vicksburg, Mississippi.
The Jackson (Mississippi) Clarion-Ledger reports on the conclusion of the chase:
The chase crossed over I-20 and continued northbound to where 27 turns into U.S. 61, and both front tires on the truck were deflated and coming off the rims.
(Warren County Sheriff Martin) Pace said Dye kept driving on the metal rims at around 35 mph, but still refused to stop. Deputies had him hemmed in, and the then low-speed pursuit was joined by the Mississippi Highway Patrol and the Issaquena County Sheriff's Office.
The chase finally ended in southern Issaquena County between the Warren County line and Valley Park when Pace got in front of the truck and stopped in the road. Dye slowed down and finally stopped, Pace said.
Dye was taken into custody without incident or injury, and the truck was returned to its owner.
The driver was charged with felony eluding in Mississippi and faces other charges in Louisiana. Dye was to have been in court Monday, Oct. 9.