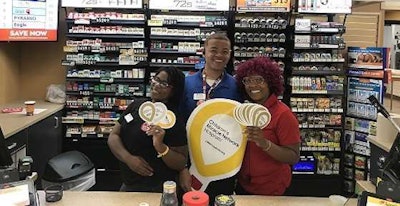 Love's Travel Stops raised over $2.76 million for Children's Miracle Network Hospitals through an annual five-week long campaign. This is the most the company has ever raised during this campaign, which it has hosted annually for 18 years.
"We're so grateful that Love's Travel Stops' employees and customers helped smash this year's campaign fundraising goals," said John Lauck, president and CEO of CMN Hospitals. "The generosity and dedication that everyone has shown to help their local communities and save kids' lives is tremendous. Thank you for helping Children's Miracle Network Hospitals across the country by funding vitals treatments, research, equipment and charity each year."
The money was raised Aug. 26 – Sept. 30 through Miracle Balloon icon sales, 5k events, bowling tournaments, fishing tournaments, cookouts, and other avenues. On National Coffee Day, Sept. 29, Love's marked its 24-ounce coffees and cappuccinos down to $1. All proceeds on those hot beverages went to CMN Hospitals.
Love's annual campaign benefits 101 of the 170 CMN Hospitals in North America. The truck stop has raised over $20 million for CMN Hospitals since the two organizations first partnered in 1999.