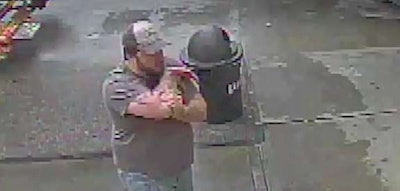 A disagreement between two truck drivers over a place in line to refuel appears to have led to the shooting of one trucker and the suicide of the other one, the shooter.
Police say the altercation occurred Tuesday afternoon at the Pilot Travel Center off Interstate 71/Interstate 75 in Walton, Kentucky, which is located south of Cincinnati.
A report by WLWT in Cincinnati says Ronald Melvin Jr., 44, of Marrow, Ohio, got out of his truck and confronted Jeffery Maggard 60, of Walton, Kentucky, about taking his place in line at the pump.
Witnesses told the WLWT reporter Maggard, still in the cab of his truck, drew a pistol and shot several times at Melvin, wounding him in the arm. Maggard is said to have then turned the gun on himself.
Maggard died at the scene and Melvin was transported to a nearby hospital.
Photo: Truck driver Ronald Melvin Jr., who was wounded in the altercation, shown on surveillance camera footage walking into the truck stop.