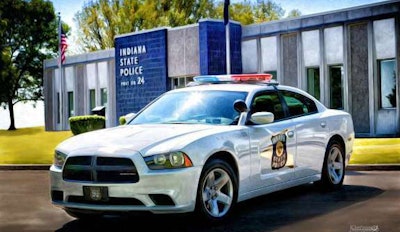 A 17-year-old boy was arrested Tuesday morning by Indiana State Police when he was found riding on the catwalk of a tractor/trailer that was northbound on I-65 near Seymour, which is about halfway between Louisville and Indianapolis.
Troopers say the boy was a runaway from Ohio. According to a statement from the troopers, the boy was transported to the Jackson County Juvenile Detention Center in Brownstown, Indiana pending his transfer back to Ohio.
The troopers' statement said the truck driver driver was unaware of the boy riding on his truck and will not face any charges.
According to a statement from the troopers:
The incident began when Motor Carrier Inspector Michael Buckley was operating the I-65 scalehouse on I-65, just north of Seymour. MCI Buckley observed the 17-year-old boy riding on the catwalk of the semi between the cab and the trailer. MCI Buckley got the driver to stop at the weigh station where he then had troopers to respond to assist.
Initially, the juvenile attempted to hide from the troopers. He was then taken into custody by Trooper Seth Davidson. Trooper Davidson was able to identify the 17-year-old juvenile who had previously been reported as a runaway from Shelby, Ohio. Further investigation determined that the boy may have climbed aboard the commercial motor vehicle somewhere in Kentucky prior to daylight.