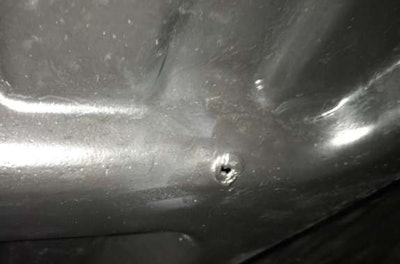 A trucker driver was beaten and a shot was fired into his truck during an apparent road rage incident in southern Kentucky earlier this week.
The incident occurred at about 6 p.m. Tuesday in the northbound lanes of I-75. Most of the exchange happened at the Kentucky-Tennessee Welcome Center, but the ordeal started south of there. A truck driver called the police and told them someone assaulted him.
One of the people involved in the altercation pulled a gun, according to a report on WKYT TV.
"Had a pistol and he began to pistol whip him. The gun went off. And shot through the cab," Sheriff Colan Harrell told WKYT.
Police continue to search for the suspect who may be driving a maroon Ford Taurus.
The trucker, whose identity was not released, was treated by a local ambulance service for his injuries.
This is the latest incident in which a trucker was attacked in an incident or road rage. On Friday, Dec. 1 a truck driver was shot and killed during a confrontation off the Palmetto Expressway in Miami-Dade, Florida.
Truck driver pistol whipped and his cab shot through in what Whitley Co sheriff believes was road rage incident on I75 Tuesday. More at 430/530 @WKYT @WYMT pic.twitter.com/iunRmsjRZR

— Phil Pendleton (@philtvnews) December 6, 2017