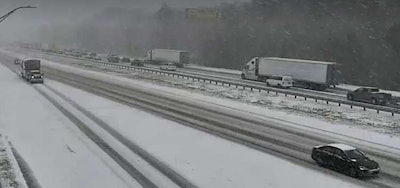 Locations in the Southeast that rarely see seriously troubling weather are getting a taste of winter's worst, while much of the East is preparing for the coldest weather of the winter later this week.
The effects of Winter Storm Grayson are being felt in Florida, Georgia and the Carolinas, and near-blizzard conditions are forecast to work their way up through the Middle Atlantic states on up to New England, according to the Weather Channel. In addition, forecasts call for a blast of Arctic air to slam into the Northeast by the weekend, while the National Weather service is warning of high winds and coastal flooding.
(Photo: I-95 in the Savannah area near mile 110, just south of the Georgia/South Carolina border. Travel is not currently recommended in this area, as roadways are snow-covered and treacherous, according to Georgia 511.)
All told, if you are traveling to or through the East you can expect:
freezing rain and some snow throughout the Southeast
about 6 inches of snow along the northern stretches of the I-95 corridor
wind gusts of between 50 and 70 mph from New York City and Long Island through New England
temperatures well below zero and windchills from -20 to -30 through the weekend, especially in Upstate New York and into New England
possible widespread power outages
WCTV reports: Dozens of semi trucks stuck on side of road in Tallahassee.