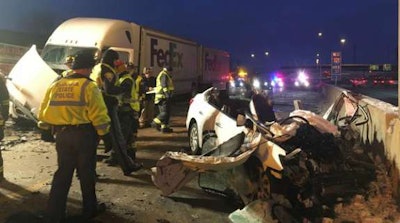 The driver of Nissan Sentra was killed early this morning on I-465 in Indianapolis when it collided with a FedEx truck pulling doubles.
A statement from the Indiana State Police says the Nissan was westbound in the eastbound lanes of I-465 when it collided with the truck, which was in the center lane just east of the US 31 exit.
The police say the truck driver received minor injuries and a passenger who was in the sleeper berth was uninjured in the crash that occurred at about 5:30 a.m.
Police have not yet identified any of the people involved in the mishap.