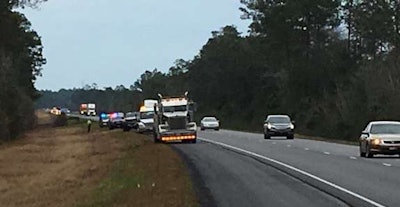 Police from two states continue searching for the truck driver who tried to run an officer off I-10 this morning.
According the Florida Highway Patrol, a truck failed to stop at the weigh scales, and a Florida Commercial Vehicle Enforcement officer gave chase.
When the truck's driver failed to pull over, the officer pulled up beside the truck with lights and sirens activated, according to WEAR-TV. The driver twice swerved into the officer's lane. The second time the truck ran off the road, according to WEAR.
The driver, described only as a white male, ran into the woods. Florida and Alabama officers continue their search.