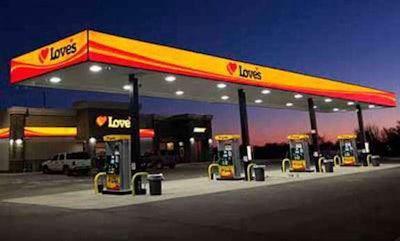 There's a new Love's Travel Stop in Alma, Arkansas.
Located at 8060 State Route 282 (Interstate 49, Exit 24), the store that opened Thursday is the company's third location along the 500-mile stretch of I-49.
The newest location includes:
three showers
Chester's Chicken and Subway restaurants
laundry facilities
Love's Truck Tire Care center
With the addition of the Alma store, Love's now operates 12 travel stops in Arkansas. Love's also operates two Speedco locations in the state in North Little Rock and West Memphis.
"We're committed to growing in areas of need. Interstate 49 between Fayetteville, Arkansas, and Fort Smith, Arkansas, is a heavily traveled freight route with limited services for professional drivers," said Greg Love, co-CEO of Love's.
Love's now has more than 440 locations in 41 states.