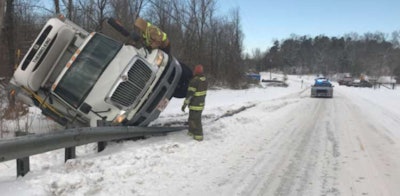 Portions of the South are still recovering after winter weather swept into the region Tuesday, Jan. 16, creating icy road conditions, prompting some road closures, and causing numerous accidents. In North Carolina alone, AccuWeather reports that 1,600 collisions occurred as a result of poor travel conditions. The Weather Channel reported that snow and sleet were on the ground at some point in all 50 states Wednesday.
Temperatures are expected to rise above freezing in many Southern states over the weekend. The warmer temperatures are expected to help melt any remaining ice and snow.
More snow is on the way for the north-central U.S. over the next few days. AccuWeather reports snow may impact I-25, I-29, I-70, I-80 and I-90 over the weekend.
Alabama
Alabama Gov. Kay Ivey declared a State of Emergency Monday, which temporarily suspended hours of service restrictions. That State of Emergency has since been lifted. Parts of south Alabama saw as much as two inches of snow. A tractor-trailer flipped over Tuesday morning at the I-65/I-85 in downtown Montgomery. Much of that interstate was closed during the day as a result.
Ice remains on several roads, according to ALGO Traffic, the state's site for road closure information. Most of the remaining ice threat is confined to secondary roads, but ice has also been reported on I-10, I-565, I-59 and in several spots on I-65. The Montgomery-Advertiser reports that black ice remains a concern because of how snow and ice melted and then refroze overnight Wednesday. A complete list of current state road conditions is available from ALGO Traffic.
Louisiana
Several interstates in Louisiana remain closed Thursday. Louisiana Gov. John Bel Edwards declared a State of Emergency Wednesday. A pick-up truck driver lost control of his vehicle as he approached the scene of a wreck on U.S. 61 Wednesday. His truck struck a first responder and they were later pronounced dead at the hospital.
The Louisiana Department of Transportation and Development has issued the following major road closures:
I-10 from I-49 in Lafayette to near Slidell
I-49 from MLK Blvd. to Mira Myrtis Road in Caddo Parish
I-12 from Baton Rouge to near Covington
I-110 in Baton Rouge
I-55 from LaPlace to Ponchatoula
I-610 in New Orleans
I-310 between Destrehan and Kenner
Current road conditions in Louisiana can be viewed on the state's 511 site.
And there you have it folks, the Mississippi River Bridge, in all it's frozen glory #lawx @theadvocatebr pic.twitter.com/xKyz695m0h

— Hilary Scheinuk (@hscheinukphoto) January 17, 2018
Georgia
Georgia 511 reported an alert that the state's interstates are in decent shape, with some patches of ice, but snow and ice still remains on secondary roads. Temperatures should rise above freezing after noon Thursday. GDOT crews worked Wednesday evening to apply brine and calcium chloride on state highways to prevent refreezing, the Atlanta Journal-Constitution reported. By 3 p.m. ET Wednesday, much of the ice in metro Atlanta had been cleared, AJC reports.
A disabled truck closed all westbound lanes of I-20 Wednesday at mile marker 87.
A Georgia Department of Transportation salt truck driver was attempting to cross a railroad track Thursday morning when it were struck by a train. The truck driver died in the wreck.
Interstates in Georgia are open. Current state road status information is available from Georgia 511.
North Carolina
Gov. Roy Cooper declared a State of Emergency in North Carolina Wednesday. The storm dumped as much as 12 inches of snow in some areas, reports the Associated Press. North Carolina officials deployed as many as 2,000 state trucks to plow and salt roads.
Truck-involved accidents have led to delays and lane closures on North Carolina highways. Thursday morning a crash involved a tractor-trailer closed the northbound lanes of I-85. A second tractor-trailer caused further delays on northbound I-85 when it slid off the road near Redwood Road in Durham Country, reports WRAL. On I-95 Thursday morning, a tractor-trailer jack-knifed at Keen Road and closed the northbound interstate lanes. Both I-85 and I-95 were reopened by 1 p.m. local time.
Current travel information for North Carolina is available online from NCDOT.
Tennessee
Tennessee received its fair share of snow, with some parts receiving as much as five inches.
Part of I-40 westbound was closed due to a wreck in Cumberland County Wednesday. Interstates are open in Tennessee and road conditions can be monitored online.
Texas
Some parts of East Texas are still seeing patches of ice and snow, but there are no snow or ice-related road closures. Current road status information is available on DriveTexas.org.
In Harris County, dispatchers and deputies had already received over 400 accident reports due to icy roadways by 8 p.m. Tuesday.
A truck driver in Longview, Texas, attempted to take his rig up an icy hill on Tuesday but was unsuccessful. They slid backwards and hit a traffic light pole. The accident was captured on video by Longview resident Kristy Boyd.
Virginia
Some areas of Virginia reported receiving as much as six inches of snow Wednesday. WDBJ 7 reported that Danville received almost nine inches of snow Wednesday. A Tuesday afternoon accident near Milton on I-64 killed one woman and sent three others to the hospital. The accident occurred when passenger vehicle driver lost control of their vehicle due to ice and hit a guard rail. The vehicle then hit a parked tractor-trailer. Traffic on the eastbound interstate was closed for four hours.
Interstates are open in Virginia but ice is still causing delays, according to 511 Virginia. Road conditions can be monitored online.