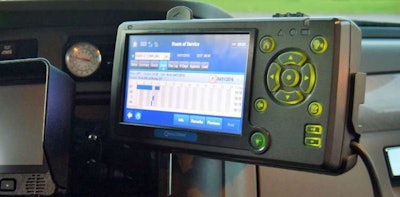 A new bulletin from a major safety organization outlines what drivers and law enforcement officers are to do during hours of service inspections when the truck is equipped with an electronic logging device.
The Commercial Vehicle Safety Alliance, a North American partnership of law enforcement and truck- and bus-industry representatives, created the document that outlines procedures for ELD-involved hours inspections, and exemptions to the ELD mandate rule.
Intended primarily for inspectors, it also details driver responsibilities when transferring data from an ELD to roadside software for analysis.
Most heavy duty-trucks are required to have ELDs. The deadline for the mandate was Dec. 18, 2017. There have, however, been several exemptions made, and efforts continue for more.
The bulletin can be dowloaded as a PDF from CVSA.