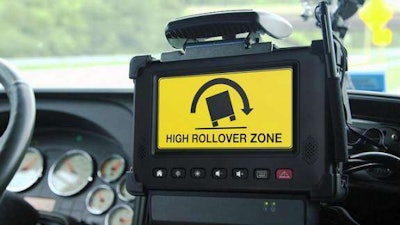 A partnership between the Pennsylvania Turnpike Authority and Drivewyze appears to have reduced truck speeds and improved safety on 32 curves and ramps on the 360-mile-long toll road.
In the first six months of a program that delivered more than 70,000 driver-safety notifications to truck drivers. Last September, truckers who received in-cab notifications reduced their speed 7 percent more than those who did not receive alerts, according to a news release from Dallas-based Drivewyze.
"Results of the pilot program show the benefits of technology in changing driver habits and improving traveler safety," said Pennsylvania Turnpike Chair Leslie Richards. "This vehicle-to-infrastructure technology is helping us improve safety at no cost to toll-payers by delivering timely alerts when they can alter driving behaviors.
The company said its platform operates on standard in-cab telematics equipment managed by fleets and does not require the driver to download or interact with the application. The notifications are fully automated and provide both visual and audible notices to drivers. As drivers approach rollover-risk areas on the Turnpike, the Drivewyze application issues an audible tone and displays a standard federal roadway warning symbol on the in-cab display.