Drivewyze now offers its weigh station bypass service at 11 permanent and mobile sites in South Carolina.
The new sites are located on U.S. Interstates 20, 26, 77, and 95, plus U.S. Highway 17.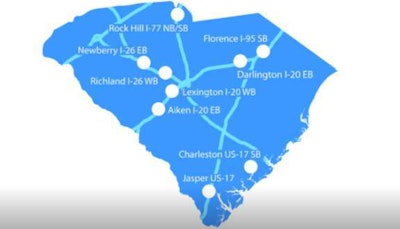 "Truck fleets and drivers traveling north and south along the I-95 corridor will now find weigh station bypass opportunities on most stretches of interstate from Maine to Florida," said Brian Heath, president of Drivewyze.
With the addition of South Carolina, Drivewyze offers weigh station bypasses in 14 of the 16 states that make up the I-95 Corridor Coalition. The coalition is an alliance of transportation agencies with jurisdiction over I-95 from the State of Maine to the State of Florida, with affiliate members in Canada.
Drivewyze, which comes with a Weigh Station Heads-Up service for real-time notifications for more than 1,200 weigh stations and inspection sites nationwide, provides bypass opportunities at more than 600 sites in 38 states.