These are busy days for the new Trump administration, and some of its early work affects the trucking industry.
A recently published rule setting training standards for new truck drivers could be affected by an order issued Jan. 20 by President Trump putting the brakes on some new and/or pending regulations. At the same time, the Senate is expected to vote on Trump's nominee for the Department of Transportation and it appears infrastructure may not be at the top of the legislative "to do" list.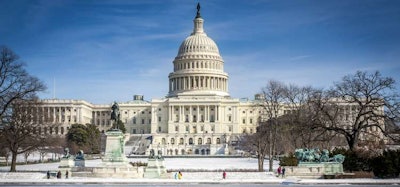 The Federal Motor Carrier Safety Administration's Entry-Level Driver Training rule was published Dec. 8 and set to become effective Feb. 6. It appears to be covered by Trump's order. That order instructed agencies postpone the effective date of such rules for 60 days from the date of the memo so that the new administration can review them and alter them if deemed necessary.
However, Trump's freeze on new regulations likely won't affect existing — though fresh — trucking regulations, such as the electronic logging device mandate.
Also in Washington, Elaine Chao's nomination to become Secretary of Transportation was approved Tuesday, Jan. 24 by the Senate Committee on Commerce, Science and Transportation. Several media outlets tracking her appointment say her nomination could be voted on by the full Senate early to middle of next week and approval is expected.
Chao previous served as an undersecretary in the Department of Transportation and previously served as Secretary of Labor. She is the wife of Senate Majority Leader Mitch McConnell (R-Kentucky).
The Hill recently reported that Chao could be "Trump's secret weapon on infrastructure," citing her previous cabinet experience, support of the Senate leadership and friendships with Democrats.
However, it appears infrastructure improvements may take a while to be addressed. Politico reports that House Speaker Paul Ryan's legislative game plan for for much of the rest of this year does not include the $1 trillion plan Trump has spoken of. At the same time, Democrats unveiled a sweeping infrastructure plan that would rely primarily on federal funds, compared to the Trump concept of using mostly private money.