Three new Love's Travel Stops opened Thursday, Jan. 26, to grow the network to more than 410 stores across 40 states.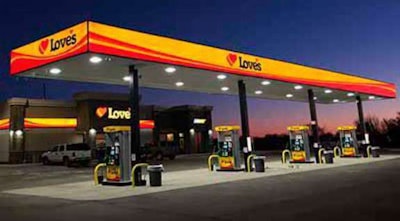 Love's newest locations are in:
Cunningham, Kansas located at U.S. Highways 400/54 and Southwest 170th Avenue
Springfield, Ohio located at Interstate 70, Exit 59
Hereford, Texas located at U.S. Highway 60 and U.S. Highway 385
Combined, the three locations add 183 new truck parking spaces. The three travel stops are open 24/7 and offer showers, CAT scales, DEF and other driver services.
The Cunningham travel stop offers a Subway restaurant, the Springfield location features Subway and Wendy's restaurants, and the Hereford store features a Carl's Jr. restaurant.
"All three will be great locations that provide services to professional drivers in areas of need," said Greg Love, co-CEO of Love's. "The Springfield, Ohio, facility is located just west of Columbus on Interstate 70. The Herford, Texas, location will serve drivers commuting between Texas and New Mexico, and the Cunningham, Kansas, Love's is in a great spot about 60 miles west of Wichita on U.S. Highway 54."