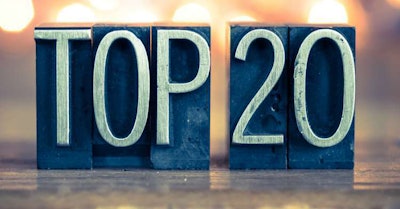 Twenty for-hire trucking companies in the U.S. and Canada have been named the Best Fleets to Drive For in 2017.
The Truckload Carriers Association (TCA) and CarriersEdge today announced this year's list. The fleets are recognized for providing exemplary work environments for their drivers and other employees.

The 2017 Top 20 Best Fleets to Drive For include:
Bison Transport, Winnipeg, Manitoba, Canada
Boyle Transportation, Billerica, Massachusetts
Central Oregon Trucking Company, Inc., Redmond, Oregon
Challenger Motor Freight Inc., Cambridge, Ontario, Canada
Fremont Contract Carriers, Inc., Fremont, Nebraska
FTC Transportation, Inc., Oklahoma City, Oklahoma
Garner Trucking, Inc., Findlay, Ohio
Grand Island Express, Inc., Grand Island, Nebraska
Halvor Lines, Inc., Superior, Wisconsin
Interstate Distributor Co., Tacoma, Washington
Kriska Holdings Ltd., Prescott, Ontario, Canada
Landstar System, Inc., Jacksonville, Florida
Maverick Transportation, LLC, North Little Rock, Arkansas
Motor Carrier Service, LLC, Northwood, Ohio
Nussbaum Transportation, Hudson, Illinois
ONE For Freight, Milton, Ontario, Canada
Prime Inc., Springfield, Missouri
Smokey Point Distributing, Arlington, Washington
TLD Logistics Services, Inc., Knoxville, Tennessee
TransPro Freight Systems Ltd., Milton, Ontario, Canada
Two companies, FTC Transportation, Inc., and Halvor Lines, Inc., achieved the milestone of five consecutive years on the Best Fleets list. Motor Carrier Service, LLC, Fremont Contract Carriers, Inc., Landstar System, Inc., and Grand Island Express, Inc. have continued their streaks as Best Fleets, each appearing on the list for over the fifth time.
Five companies were identified as "Fleets to Watch" honorable mentions for demonstrating innovation in their driver programs:
Crete Carrier Corp., Lincoln, Nebraska
Hirschbach Motor Lines, Inc., Dubuque, Iowa
Kroon Brothers Transport, LLC, Hanover, Pennsylvania
Paper Transport, Inc., De Pere, Wisconsin
Transport Corporation of America, Inc., Eagan, Minnesota
Phase two of the contest will divide the highest scoring fleets into small and large fleet categories, from which two overall winners will be selected. These awards are sponsored by EpicVue of Salt Lake City, and Bose Ride of Framingham, Massachusetts.
The overall winners' names will be announced during TCA's Annual Convention, March 26-29, at the Gaylord Opryland Resort & Convention Center in Nashville, Tennessee.
To be considered for the Best Fleets program, companies operating 10 or more trucks were required to receive a nomination from at least one of its company drivers or owner-operators. CarriersEdge then interviewed human resources representatives and executives of the nominated fleets regarding their corporate direction, policies, and programs, and evaluated the fleets in a variety of categories, such as total compensation package, health benefits, pension plans, professional development opportunities, and career path/advancement opportunities, among other criteria.
Driver feedback from a selection of each fleet was then compared with management's and incorporated into the final score, resulting in the selection of this year's winners and honorable mentions. Fleets raised the bar for driver programs more dramatically this year than any previous year.