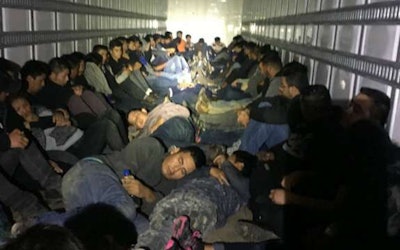 In two separate incidents recently, federal agents found more than 100 illegal immigrants locked in the back of tractor-trailers near the U.S.-Mexico border in Laredo, Texas.
All 105 migrants were found alive and "in good health," according to the Customs and Border Patrol. Both of the tractor-trailers were seized by authorities. One truck driver, a U.S. citizen, was arrested. The other tractor-trailer was found without a driver.
On Jan. 20, border agents rescued 29 illegal aliens locked in a tractor-trailer near Mines Road in Laredo, Texas. The migrants were determined to be from Mexico and Guatemala.
On Jan. 26, agents found 76 illegal aliens inside another trailer at the border checkpoint near Laredo. They were determined to be from Mexico, Honduras, El Salvador and Guatemala. Thirteen unaccompanied children were among those 76.