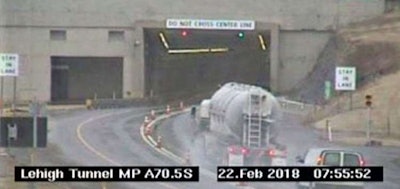 A 70-year-old truck driver from New Jersey died earlier this week in a freak accident inside a tunnel on the Pennsylvania Turnpike.
Howard Sexton III, of Mickleton, New Jersey was driving inside the Lehigh Tunnel north of Allentown Feb. 21 when a section of electrical conduit fell from the roof of the tunnel, crashed through the truck's windshield and struck him. Sexton's truck reportedly continued for about a mile after being struck by the conduit.
Lehigh County Coroner Scott Grim said the conduit was a large pipe that damaged other vehicles in addition to Sexton's truck.
Sexton, a driver for Raymour & Flanigan, was delivering a load of furniture and mattresses at the time of the accident, according to a company spokesman.