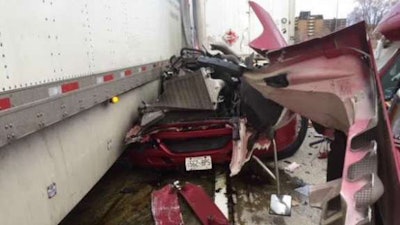 Three tractor-trailers were involved in a chain reaction crash at the toll booths of the Blue Water Bridge in Sarnia, Ontario, Canada Feb. 21.
Provincial police say the 53-year-old man hit a truck that was waiting to pay the toll to cross into the U.S., and pushed it into a third truck, damaging all three vehicles. One of the drivers was injured.
The cab of one of the trucks appears to have been totally torn off in pictures provided by Lambton County Ontario Provincial Police.
Westbound Highway 402 was closed for more than four hours while police investigated and crews worked to clear the wreckage.
The Blue Water Bridge connects Sarnia to Port Huron, Michigan.