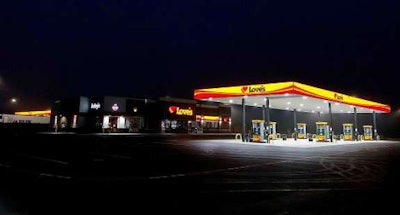 Love's Travel Stops' newest location opened in Prince George, Virginia Thursday. The new store is located at 7200 County Drive, at the intersection of U.S. Highway 460 and Prince George Road.
The new location features:
five showers
Arby's restaurant
laundry capabilities
game room
seven diesel fuel pumps
Love's Truck Tire Care
"The new Love's located in Prince George is just southeast of Richmond, and situated well to take care of the traffic coming to and from the Norfolk/Portsmouth area," said Greg Love, co-CEO of Love's.
Love's Travel Stops now serves customers at 10 travel stops and two Speedco locations in Virginia.