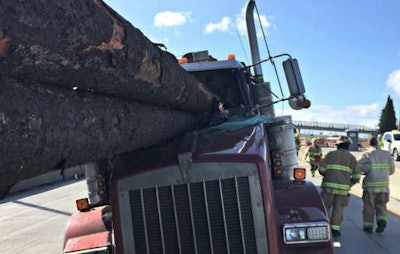 Police continue to investigate a collision in Tacoma, Washington this morning which saw logs from one truck smash through the cab of another logging truck.
The crash took place at about 9:45 PST on northbound I-5 near 38th Street in the city.
The Tacoma Fire Department posted on Twitter that one driver was transported in serious but stable condition.
No other details were available.
Crews on scene of MVA on N. I-5 at 38th St. Two logging truck involved with logs thru one of the cabs. Driver transported in serious but stable condition. pic.twitter.com/oRCDu4bIgn

— Tacoma Fire (@TacomaFire) March 1, 2018