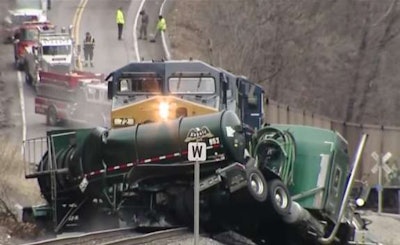 A tractor-trailer hauling a tanker filled with 4,000 gallons of hydrochloric acid was struck by a CSX freight train on a crossing in western Pennsylvania at about 11 a.m. Tuesday, March 6.
Numerous media reports say the truck's driver was flown by medevac helicopter to a hospital in Pittsburgh from the crash site in the borough of Centerville. The driver's condition was not known. Members of the train's crew were examined at a local hospital and released.
Several nearby homes were evacuated because of the acid spill, but residents have since returned.
WPXI reported that the train, which is carrying empty coal cars, pushed the truck abut 100 yards down the track.