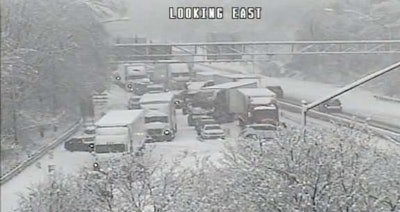 As the second winter storm within a week wound down, New York and Pennsylvania have lifted most of the bans on truck travel both states enacted during the storm.
The ban on commercial traffic on Interstate 84 in Pennsylvania was lifted as of 11 p.m. Wednesday. Other restrictions on Interstate 380 and other interstates and portions of the Pennsylvania Turnpike were lifted earlier Wednesday.
The only remaining 45 mph speed restriction on the Pennsylvania Turnpike — from Mid County to the bridge to New Jersey, Interstate 276 — was lifted at 8 pm Wednesday.
New York lifted the ban on most
trucks
and other high-profile vehicles by late Wednesday.
One person was killed in the storm when a tree fell on her house, and a teacher in New Jersey was struck by lightning during an episode of "thunder snow" Wednesday. More than 1 million utility customers lost power during the storm, which also caused considerable flooding along the Atlantic Coast.