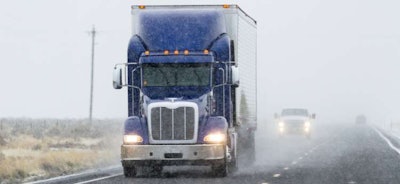 It's the same stuff on a different day, and it just happens to be the first day of Spring.
The current late season nor'easter (The Weather Channel has named this one Toby) will deliver significant — as much as 18 inches in some locations — amounts of wet snow, high winds and some flooding to much of the East starting today. The storm is expected to cause difficult driving conditions along much of the I-95 corridor through Thursday.
And, if you're headed to the Mid-America Trucking Show in Louisville, Kentucky this week, you can expect to see snow there too. Rain today is expected to change to snow tonight with about an inch of accumulation. Snow is also in the forecast for Wednesday. Louisville is expecting a total of between 1 and 3 inches of snow late tonight and into Wednesday morning. Temperatures are expected to moderate when the show opens Thursday.
Winter storm warnings (heaviest snows; between 6 and 18 inches) are out for:
eastern Massachusetts to the Smoky Mountains of Tennessee and North Carolina
Boston, Providence and Hartford in New England virtually
the New York City Tri-State area
Philadelphia
Winter storm watches (with significant snow possible) are posted for:
Washington, D.C.
Baltimore
parts of the Northeast.
Winter weather advisories (some snow accumulations)
Ohio Valley including Indiana, Kentucky, western Pennsylvania and West Virginia
Airlines are already cancelling flights into and out of airports in major East Coast cities, and power outages are possible.