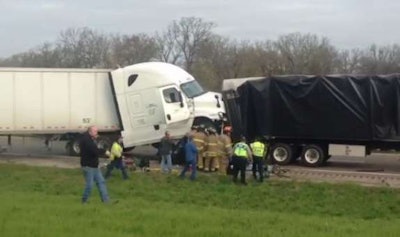 Five people — including a female truck driver from Tennessee — died in a multi-vehicle crash on I-30 in Mount Pleasant, Texas Friday morning, March 23.
Numerous media reports say a truck towing a trailer flipped and stopped traffic. About an hour later, a tractor-trailer driven by a woman from Tennessee plowed into the line of stopped vehicles, killing a mother and three children in a stopped minivan. The trucker also died in the crash.
Several other people were injured in the crash, which involved several other rigs.
Names of the dead and injured were not released.
Mount Pleasant is located in the northeast corner of the state.