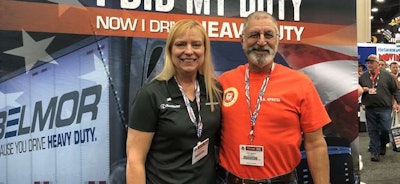 Belmor, a manufacturer of heavy duty truck accessories, has selected U.S. Army veteran Larry Berman as the winner of its second annual "I Did My Duty… Now I Drive Heavy Duty" essay contest. Belmor presented Berman with the award during the Mid-America Trucking Show in Louisville last week.
Berman is from Springhill, Florida and drives team for U.S. Xpress with his wife, Mary, who is also an Army veteran. Berman served in the Army from 1974-2000 where he worked as an EMT medic and a medical instructor for the U.S. Army Academy of Health Sciences. He achieved the rank of Sergeant First Class in the Army before he transitioned to the U.S. Coast Guard. Berman served in the Coast Guard from 2002-2015 as an Independent Duty Corpsman. He began trucking after he retired from the military.
To enter the contest, Berman had to write an essay about his experience in the military and what it's like to be a truck driver. With the 13 years he spent as an Army medic, he had plenty to write about. He says his experience in the military has helped him be a successful truck driver.
"Every time we get an assignment, it's kind of like you're being deployed to go do a mission. Say for example I've got to go to location X and there's snow. I'm going to get it there. I'm going to get it there safely," Berman said. "So it's almost like mini-missions. Because I'm polished, I know how to take orders. I know how to do everything by the book. The military will make you very grown up fast. In trucking, you have to be very grown up."
Berman said that as a parent, winning awards or recognitions like this benefits his children. He has three children, ages 23, 25 and 27.
"Kids should be proud of their parents. Kids should look up to their mom and dad as role models. Every time something like this happens, or other awards or recognitions, it helps their self-esteem," Berman said.
Berman received a free trip to MATS for two for winning the award.