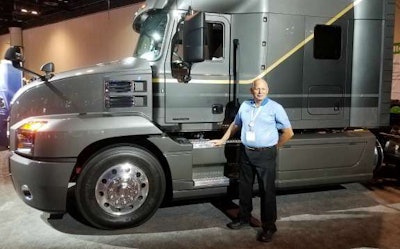 Three truck drivers have been recognized for what they do on and off the road in Pilot Flying J's annual Road Warriors.
This year's honorees, chosen from about 5,000 submissions, are:
Mike Sheeds, $10,000 grand prize winner: Over 3.5 million safe driving miles under his belt from his 27+ years of professional driving. Trained more than 300 driving students. Adopted four daughters born drug and/or alcohol exposed and surviving trauma, abuse and neglect. Always prioritizes time with family and advocating for his children.
Terry Lee, $5,000 second place winner: Army veteran who began his 34 years of professional driving while serving in the army in the Middle East. Even after being diagnosed with chronic lymphocytic leukemia stage two blood cancer, Lee has stayed dedicated to driving, and is still on the road today.
Desiree Ridley, $2,500 third place winner: Advocate of millennial women breaking barriers in the professional driving industry. Eldest of nine children and strives to be a positive and strong-minded female role model. Showing dedication and passion for her job, she drove up until she was eight and a half months pregnant. Even as a new mother, she continues to drive locally six days a week while caring for her family.
"I am so humbled to be chosen as a Road Warrior winner," said Sheeds. "Driving has been part of my life for almost 30 years, and teaching aspiring professional drivers to prioritize safety above all else is what has remained most important to me throughout my career. Experience will never trump physics, and I encourage all drivers to remember this on the road. I'd like to thank my wife for nominating me and always believing in me, and all of the inspiring pro drivers I've met throughout my journey."
Each year, Road Warrior winners are nominated by coworkers, friends and families of professional drivers across the U.S. for their hard work, perseverance and passion for driving. This year's winners stood out from a field of almost 5,000 participants. Nominators of the three winners receive a $500 prize.
"This year's Road Warrior winners are inspiring and exceptional representations of the professional driver community," said Ken Parent, president of Pilot Flying J. "These unsung heroes are on the road day in and day out to provide our country with the goods that make daily life possible. The Road Warrior program is our way of thanking professional drivers."