A 51-year-old driver for Big G Express is this year's Company Driver of the Year.
Stephen Richardson was recognized at the Truckload Carriers Association annual convention Tuesday night at the Gaylord Palms Resort in Kissimmee, Florida. The award, which includes a check for $25,000, is presented by TCA and Truckers News, and is sponsored by Cummins and Love's Travel Centers.
Runners up were Roger Wyble, who drives for Maverick Transportation, and Don Lewis, who drives for Wilson Logistics. They each received $2,500.
Also on Tuesday night, Phillip Keith was named owner-operator of the year by TCA and Overdrive. Keith, leased to WEL Companies of De Pere, Wisconsin, has driven more than 5 million accident-free miles.
In accepting his award, Richardson thanked God, his wife of almost 17 years and Big G Express and its President Randy Vernon for the opportunities he's been given.
The folks who nominated Richardson for the award talked about what makes him special.
Vernon, Richardson's boss at Big G Express, said the newest Company Driver of the Year lives up to his CB handle: One of a Kind.
"We all know it takes a special person just to be a professional driver, but Stephen does the job with a grace and demeanor that most would find impossible to achieve in today's environment," said Vernon. "He handles the demands of his job on a daily basis in all facets among the finest I have ever seen. Richardson is safe, on time, and always represents himself, his family, Big G Express and our industry in the absolute finest manner."
Richardson is also praised for his outlook about safety. He has logged some 1.9 million accident-free miles with Big G.
"Stephen not only operates in a safe manner, but he also serves as a mentor to other truckers who are new to the industry and new to Big G Express," said Kristi McFarland, Big G's vice president for safety and human relations. "He has served on numerous driver committees over the years and has offered valuable insight and feedback. His knowledge and experience has been a true asset to our leadership team."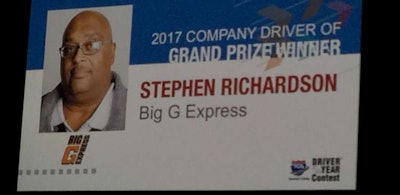 In an earlier interview with Truckers News, Richardson, who has driven for Big G Express for 17 of his 27 years on the road, said driving is a "lifelong passion" of his, having grown up with parents who made their livings as drivers. His father was a trucker and his mother drove a school bus, and both instilled in him the importance of safety on the road.
"I think that's where I get a lot of my actions from," he says. "It's just natural because my whole life I grew up with my mom being a school bus driver and handling kids, being safe, and then in the summer time when I was out of school I'd ride in the truck with my dad. I'd get excited about it because I'm up in a big truck, and I would actually get in the back and help him get the groceries out … you know, just being a kid being excited about doing something, not knowing that they were, in a subliminal way, teaching me the safety side of transportation."
No stranger to awards, in his 27 years on the road, Richardson was:
Big G's first Driver of the Year Award in 2013
chosen Tennessee Driver of the Year in 2014
named to the Tennessee Road Team in 2014
an America's Road Team Captain in 2017
Still, Richardson is modest about the recognition that has come his way.
"It wasn't like I was out here trying to be Driver of the Year or trying to be nominated — my company just put me in for it, and it's just because I'm doing what I'm doing. It's not like I'm doing anything extra special, at least in my eyes. But that's a good feeling that people think that much of you."
Part of the Driver of the Year nomination process focuses on the importance of driver health and wellness, something Richardson said he and his wife have been working on.
"This year I began a serious exercise routine at my home by walking three to four miles every morning on the treadmill before starting my day," he said. "I also meal plan and take my lunch from home so I'm eating healthy while on the road. Watching my sugar intake and carbohydrates with the exercise daily I have lost 55 pounds and counting. My wife has lost almost 80 pounds during this time and we have taken this on as a team effort supporting and encouraging each other."
And while retirement is still a few years away for the 51-year-old, he already has plans to spend more time giving back when he's done trucking.
"I have this idea in my head that I could do a lot more in the community," Richardson says. "Volunteering, do something with the Veterans of Foreign Wars — find something to keep myself busy but also enjoy life. Go down to the homeless shelter and help prepare meals, build a house for Habitat for Humanity — the things I like to do now but I just don't have the time."
Richardson said he plans to donate some of his prize money to charitable organizations and also to the TCA Foundation's scholarship fund.