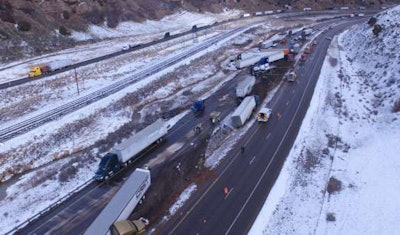 A truck driver is said to have died and 16 other people were injured Monday morning in a large pileup on I-80 at mile marker 172 near Echo Junction in Utah.
Utah police say some 23 vehicles — mostly tractor-trailers — were involved in the pileup.
The Utah Highway Patrol identified the trucker who was killed as 61-year-old Oscar Longoria of Barling, Missouri.
No cause for the pileup was given.
WB I-80 will remain closed until further notice. Only one EB lane is open. Aerial photo courtesy of UHP accident investigation team. pic.twitter.com/ava44nlMGZ

— Utah Public Safety (@UtahDPS) March 26, 2018
Update: 20-30 vehicles involved in the multi-car accident at Echo Junction. One confirmed fatality. @UtahDOT and tow trucks are currently working to clear the road. It will remain closed until further notice. pic.twitter.com/PlCuB0Bsjx

— Utah Public Safety (@UtahDPS) March 26, 2018