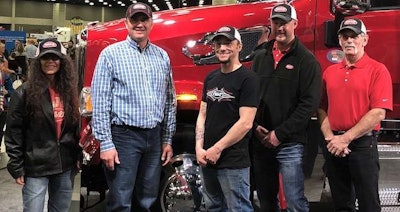 Peterbilt gave away its one millionth truck, a Model 567 Heritage, to one dedicated SuperFan during the Mid-America Trucking Show in Louisville, March 23.
Rick McClerkin, 61, an owner-operator from San Jose, California, won the truck. It has a MX-13 engine, PACCAR automated transmission and PACCAR 40k rear axle. The truck will get free oil changes up to a million miles.
Peterbilt General Manager Kyle Quinn handed McClerkin the keys at MATS.
"I want to congratulate Rick as the ultimate Peterbilt SuperFan. We are sure this rugged, reliable and powerful Model 567 will take his business to the next level," said Quinn. "This was such an amazing experience and it was truly an honor to share the stories of our five finalists. Choosing a winner was a difficult decision because they are all so deserving in their own unique ways."
McClerkin is a lifelong Peterbilt fan and has six Peterbilts in his personal collection, as well as seven Fageols, the predecessor to Peterbilt. He has over 50,000 drawings and schematics from Peterbilt, and helps others restore their trucks.
McClerkin displays his Peterbilt collection in his museum, Roadway Trucks, located in San Jose. Tours are available by appointment only. His truck collection dates back to 1918 with a Fageol and now spans through 2018 with the addition of his newly won Model 567 Heritage.
"My whole life has been Peterbilt. I go back as far as I can with the history. I go as deep as I can with collecting the brochures and the drawings," Peterbilt said.
McClerkin's love for Peterbilts started with his father, who drove Peterbilts throughout his trucking career. He sat in his father's Peterbilt for the first time when he was just 5 years old and has loved them ever since.
"I love being seen in a Peterbilt," McClerkin said.
McClerkin was one of five finalists and the four runners-up didn't leave empty handed. Cathy Bauder, Jake Bartos, Josh Hainstock and Sheldon Hyatt each received $10,000 for being a finalist.