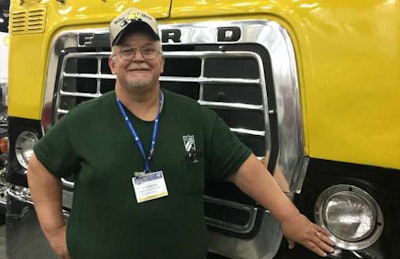 For Arthur Culbertson, the screaming yellow 1974 Ford WT9000 he had on display at the Mid-America Trucking Show in Louisville, Kentucky last week is more than just a truck. For the longtime trucker from Frankfort, Kentucky, the modest 44-year-old COE is a time machine.
Culbertson said his father was a trucker and at one time had a GMC Crackerbox before getting a WT9000.
"Dad had one when I was younger," said Culbertson, who is leased to Rail Freight of Georgetown Kentucky hauling shipping containers. "He had one of these when I was younger, and the Ford just grew on me."
Then along came Carroll Jo Hummer. The 1975 movie White Line Fever starred a 1975 Ford WT9000 as Jan-Michael Vincent's "Blue Mule".
"White Line Fever fired my enthusiasm back up for the old Fords," said Culbertson. "As I started driving, I started hunting them. I've owned as high as 10 at one time and I'm down to three now."
Culbertson said he bought this WT9000 from Dave Thompson in Mount Vernon, Kentucky. It was red and white at the time, and Super Service had used it as a jockey truck to pull loads of charcoal. But, that's about Culbertson knows about the truck, except that he believes it was built in Louisville because it has an aluminum cab.
Under the cab sits a 250 Cummins put to a nine-speed overdrive transmission, replacing the original 10-speed.
"Wide open you'd get 63 mph," said Culbertson, who began driving in 1987, after serving as a diesel mechanic for four years. After changing transmissions, "my rpms went down and my mileage went up."
But, more importantly the Ford puts a smile on its owner's face.
"Driving this truck takes me back to a time when I was young and riding with my dad and being around the trucks," he said. "I started out driving cabovers in my trucking career and of course today cabovers are about obsolete.
"This little, old truck puts me back where we can't go now. When I drive it, I just enjoy it. I get a lot of looks. When I stop to fuel people come up and ask if they can take pictures."
And, that was Culbertson's intent. He said he wanted a paint scheme that would draw attention.
"Trucking has changed so much over the years," he said. "It's a different era now compared to what it was. This puts people back to when they started and it was fun."
And, then there's the fact it's a Ford.
"I'm a Ford fan," said Culbertson. "I have a Ford pickup and a Ford Mustang. I've always been a Ford lover. I keep the history alive with this truck."