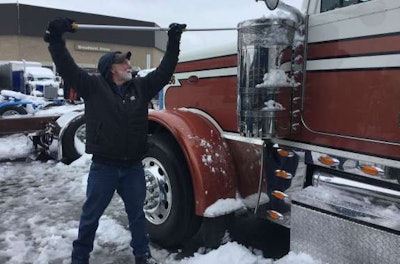 Folks entered in the Mid-America Trucking Show's PKY Truck Beauty Contest had something extra to contend with Wednesday as they prepared their trucks for the judges: snow, and plenty of it.
It started snowing Tuesday and when it stopped and was measured at 11 a.m. Wednesday, a total of 8.4 inches had fallen.
However, truck show participants continued getting their trucks ready for the judges … including shoveling the heavy, wet slush around them.
John Barker pushed a large shovel moving snow from alongside the horse hauler he had entered in the show.
"I could have stayed home and done this," said Barker, who is from Malvern, Pennsylvania.