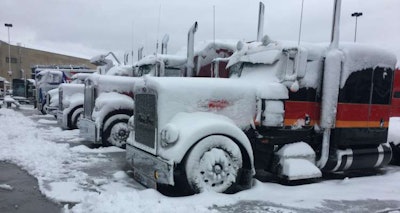 Heavy wet snow arrived in Louisville today about the same time the exhibitors and truckers attending the Mid-America Trucking Show, which opens Thursday and runs through Saturday.
About 3 inches of snow fell on the Kentucky Expo Center, and a winter storm warning was announced. The National Weather Service says the snow will change to rain later in the day and is forecasting sun and a high temperature of 47 for Thursday when MATS opens at 1 p.m.
If you're coming to MATS, there's no shortage of things to do and see. Here are seven things you must see or do at this, the 47th annual MATS.
Trucks. Trucks. Trucks.
As you might suspect, MATS will be loaded with trucks, both new and vintage, so it will be a great opportunity to kick some tires. There will be a display of vintage trucks provided by the local chapter of the American Truck Historical Society. At the opposite end of the truck spectrum will be Shell Rotella's energy-efficient, streamlined Starship test truck.
See stars in your eyes
MATS is a good place to do a little celebrity spotting. Scheduled to be at the show are: Tanya Tucker Thursday from 2 p.m. to 4 p.m. for a meet/greet at the Red Eye Radio booth and NASCAR great Richard Petty will sign autographs and pose for photos from 10 a.m. until 1 p.m. Thursday at the Mack Trucks booth 34105 in the south wing of the Expo Center.
Learn stuff
MATS is not just about having a good time. It's also about learning. The show offers 17 seminars on everything from successful business practices for owner-operators to truck safety issues. The Federal Motor Carrier Safety Administration will be there to discuss and answer questions about the hottest topic in trucking today: electronic logging devices.
Listen to the music
Given the lineup of free performances offered at the show, it might be easy to mistake this truck show — expected to attract more than 75,000 attendees — for a music festival. The highlight of MATS is the free concert Friday evening with country star Kellie Pickler sponsored by ExxonMobil and Mobil Delvac. And, Red Eye Radio is providing more than a few tunes with a variety of artists, including:
Jayne Denham Thursday – March 22: 11 a.m. – 11:45 a.m. performance, then 11:45 a.p. – 12 p.m. meet/greet
Dustin Collins Thursday – March 22: 12:30 p.m. – 1:30 p.m. performance, then 1:30 p.m – 2 p.m. meet/greet
Tyler Jordan Thursday – March 22: 4 p.m. – 4:45 performance, then 4:45 p.m. – 5:15 p.m. meet/greet
Ray Scott Friday – March 23: 9:30 a.m. – 10:30 a.m. performance, then 10:30 a.m. – 11 a.m. meet/greet
Lucas Hoge Saturday – March 24: 8:30 a.m. – 9:30 a.m. performance, then 9:30 a.m. – 10 a.m. meet/greet
And Tony Justice at a time to be determined
See the newest gear
MATS isa great opportunity to get your hands on and learn about the latest gear, especially in-cab electronics. The RoadPro Family of Brands is rolling out new items, as are Plantronics and TomTom.
Find a new job
Looking for a trucking job or looking to change jobs, MATS ought to be the place for you. Recruiters for numerous carriers both large and small will be at the sho.
Have something to eat
The "Cause We Can" Cafe is back again this year in the truck parking lot. It offers drivers a place to enjoy a meal and network with other truckers. It offers free breakfast and dinner to the truckers attending the show, their families, vendors working at the show, and others.
Show Hours:
March 22 VIP: 10 a.m. – 1 p.m.
March 22: 1 p.m. – 6 p.m.
March 23: 10 a.m. – 6 p.m.
March 24: 9 a.m. – 4 p.m.
Show Location:
Kentucky Expo Center, 937 Phillips Lane, Louisville, Kentucky 40209
Registration:
Registration is available online for $10 or tickets can be purchased at the door for $10.
Parking:
Free truck parking is available at Papa John's Cardinal Stadium. A free shuttle service will be on site to take truckers from the parking lot to Kentucky Expo Center, and back. The truck parking lot will open March 21 at 7:30 a.m. and stay open through March 24 at 6 p.m. Trucks must enter the parking lot through Gate D. The GPS address for Gate D is: 4146 Park Boulevard, Louisville, Kentucky 40209.
The stadium has 3,000 passenger vehicle spots available. Parking is available at the Kentucky Expo Center for a fee. The fees are $30 per day for trucks, $8 per day for passenger vehicles and $50 per day for spots with hook-ups. Spots with hook-ups must be reserved.