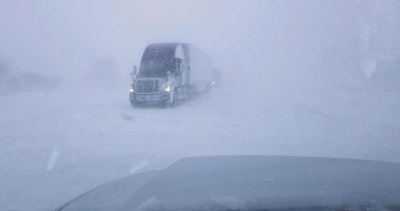 A blizzard claimed the life of 61-year-old trucker Rollo Ward this past weekend in Nebraska, according to the Nebraska State Patrol.
Ward, from Idaho Falls, Idaho, had been traveling eastbound on I-80 near Chappell on April 13 when he lost control of his rig and hit another truck that had been stranded by the snow. Ward died in the crash.
Ward was a company driver for Super T Transport. The company's President and CEO Heath Treasure released the following statement: "We at Super T Transport have recently lost a true friend and driver due to a severe weather truck accident. RJ was known by all as a committed driver, friend, dad, grandpa and much more. He will truly be missed."
Ward had previously been honored as the company's February Driver of the Month.
The blizzard in Nebraska left over 100 drivers stranded on I-80 and other roadways, according to the patrol. The patrol partnered with other agencies to rescue stranded drivers. The blizzard prompted several road closures throughout the state. The Omaha World-Herald reported some parts of Nebraska saw up to 14 inches of snow.
A note of thanks to you, the public, for your cooperation and patience before, during, and after this weekend's winter storm.

No doubt, the power of social media was on full display to spread the word about a dangerous situation.

Thank you, from NSP. https://t.co/WIiVLLMtSb pic.twitter.com/R8uFJKZk0L

— NEStatePatrol (@NEStatePatrol) April 16, 2018