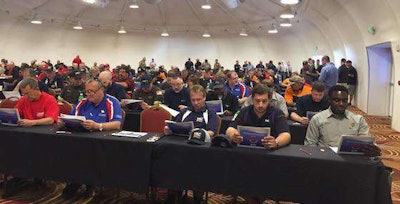 Walmart Transportation driver Phil Shelton was named the grand champion at the Tennessee Trucking Association's annual Truck Driving Championships, held April 27-28 in Antioch. Shelton also won first place in the tanker category.
Tim Geibel, a driver for Batesville Logistics, was crowned Rookie of the Year.
Shelton and the other class winners will go on to compete at the 2018 American Trucking Association National Truck Driving Championships and National Step Van Driving Championships at the Columbus Convention Center in Columbus, Ohio, Aug. 15-18.
The winners were:
Fred Thayer Grand Champion: Phil Shelton, Walmart Transportation
Rookie of the Year: Tim Geibel, Batesville Logistics
Pre-trip Inspection: James Sheehan, FedEx Ground
Team Trophy: Old Dominion Freight Line
Straight Truck: James Sheehan, FedEx Ground
3-Axle Van: Brian Turner, Old Dominion Freight Line
4-Axle Van: Michael Brewer, Old Dominion Freight Line
5-Axle Van: Thomas Vandivort, Martin-Brower Company
Flatbed: Josh Dopp, UPS Freight
Twin Trailers: Ronnie Hamill, FedEx Freight
Sleeper: Brian Hall, Old Dominion Freight Line
Tanker: Phil Shelton, Walmart Transportation
Step Van: Juanita Overbay, FedEx Ground