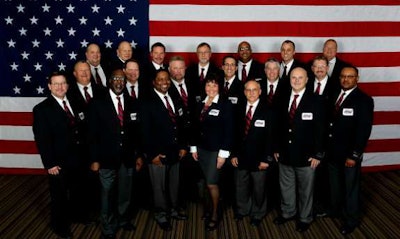 The search is under way for the newest members of America's Road Team.
The American Trucking Associations opened the nominating process for professional truck drivers to serve on the 2019-2020 America's Road Team. The team is a group of highly-accomplished professional truck drivers, promotes the trucking industry by educating the general public, media, and elected officials about the industry's strong safety record and importance to the economy, according to the ATA.
"Trucking continues to see professional drivers as the most important safety factor on the road and, as such, we have the upmost respect for the millions of skilled truck drivers who serve America's economy with pride," said ATA President and CEO Chris Spear. "For the past 32 years, America's Road Team has elevated the visibility of truck drivers and their important work in communities throughout the country, so we look forward to selecting a new group of passionate trucking advocates and welcoming them as the next generation of captains."
ATA members are invited to nominate professional truck drivers who exhibit strong interpersonal skills, have impressive safety records, and demonstrate a positive attitude toward the industry and their careers as professional truck drivers, said the ATA in announcing nominations are open.
To nominate a professional truck driver for America's Road Team, please carefully read the eligibility requirements and fill out the nomination form found at americasroadteam.com. Finalists will be announced Oct. 15, with the final selection taking place Jan. 27-30, 2019 in Arlington, Va.
America's Road Team is sponsored by Volvo Trucks,