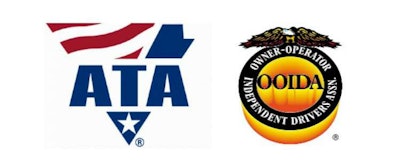 Two of trucking's major trade organizations are at odds over remarks made at a recent industry conference by the leader of one of the associations.
DC Velocity, a supply chain and logistics media outlet, reported earlier this week that following his remarks at the Nasstrac Shipper Conference and Expo in Orlando, Florida, American Trucking Associations President and CEO Chris Spear accused "OOIDA interests" of, among other things, death threats against him and his family, bomb threats on ATA's headquarters and smearing an ATA executive as a "child molester."
See James Jaillet's blog on the topic on Overdrive Online.
Spear did not offer specifics of the events in question or identify any individuals or their connections to OOIDA. ATA spokesperson Sean McNally, following an inquiry by Truckers News about Spear's remarks, also did not offer any specifics about the events or why Spear alluded to them as OOIDA affiliates.
"ATA employees received phone calls, emails and social media messages from a variety of individuals. In some cases those messages were referred to various law enforcement agencies. ATA has taken several security precautions as a result," he said.
OOIDA took exception to Spear's remarks, denying any connection to individuals who allegedly made the threats against ATA. When asked about Spear's remarks as reported by DC Velocity, OOIDA's Director of Public Relations Norita Taylor called Spear's allegations "patently false."
"Most small business truckers – who represent the majority of motor carriers – have objected to ATA's policies in a firm, but extremely respectful and civil manner," she said via email. "One should never doubt that OOIDA's mission and agenda has been the same for 45 years, fighting for the rights of all truckers. Mr. Spear not only went out of his way to marginalize their concerns, but referred to them as 'amateurs' in the process. He doesn't even recognize his pursuit of divisive policies and use of disparaging words have fueled the acrimony not only in our industry, but among his own members."
The two organizations have been at odds on several issues, not the least of which has been the mandated use of electronic logging devices. In the runup to the Dec. 18 ELD mandate deadline, Spear suggested those who opposed the devices did so because they sought to avoid obeying federal hours of service regulations. On the other hand, OOIDA suggested ELDs were unconstitutional violations of drivers' privacy and pushed repeal or delay of the mandate in the courts and on Capitol Hill.
OOIDA last year took small shots in ATA's direction by suggesting that truck drivers who met with President Trump at the White House as part of an ATA event were not "real truckers."