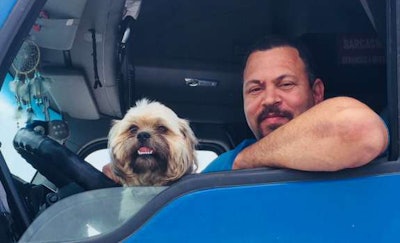 Owner-operator Raul Davila of Dodge City, Kansas has been named April driver of the month at National Carriers, Inc.
Davila drives in the NCI Hide division. According to a statement from the company, in April he ran 21 percent more miles than the fleet average, has an exceptional safety rating, with no accidents, incidents, late pickups or late deliveries.
He joined NCI as a company driver in March of 2014, and later that year leased his truck through the company. After completing his lease he exercised the option to buy his truck, said the company.
"When I joined National Carriers, my goal was to own a truck," he said. "I began as a company driver then I had the option to lease my truck. After completing the truck lease I purchased it. I have driven this truck since it had 1,100 miles. I am proud to have been able to purchase my truck and I am pleased to be named driver of the month."
Director of NCI Livestock and Hides Division Jason Greer said, "Raul flies under the radar. He hustles, understands his job, and is reliable. He is an outstanding driver who navigates the regulations and requirements that are in place and exceeds in every area that is monitored. He takes a difficult job and makes it look easy."
Davila received a $1,000 bonus and is a finalist for the 2018 Driver of the Year award.