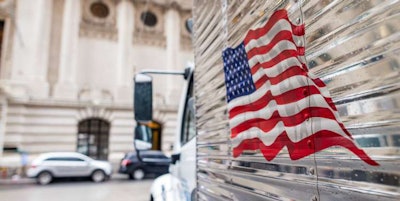 The long Memorial Day weekend is meant to be a time to remember those who fought and died protecting this country. It's also seen by many as the unofficial start of summer, which means camping, golfing, picnicking and relaxing.
For many American truckers, it's another day on the job, and one made more difficult by increased traffic and the threat of having the cargo they're hauling stolen.
AAA says more than 41.5 million Americans plan to travel during the upcoming holiday weekend of today through Monday, May 28. And, most of them — 36.6 million people — will take to the highways; that's a 4.7 percent increase over last year.
INRIX, a global transportation analytics company, warns that the worst travel days will be Thursday, May 24 and Friday, May 25. That's when folks heading out for the holiday will mix and mingle with daily commuters. INRIX says to expect travel delays on major roads up to three times longer than normal.
But, having to share the highway with millions more four-wheelers is not the only issue drivers will face this weekend.
Cargo theft recording firm SensiGuard is warning truck drivers and fleets of the potential for increased cargo theft activity over the upcoming long Memorial Day weekend.
The firm says cargo theft levels have increased on past Memorial Day weekends by as much as 52 percent over normal weekends with average theft values up to 191 percent higher than non-holiday weekends.
SensiGuard says since 2013, Memorial Day weekends have seen an average increase in cargo theft activity of 28 percent totaling more than $9.7 million.
To combat cargo theft over holiday weekends, the firm recommends confirming receivers' holiday weekend hours to mitigate the time a load is parked unsecured. Additionally, SensiGuard says to plan for secure parking locations if a load has to sit longer than normal because of the holiday. GPS tracking and active monitoring are suggested for high-value loads.